How to improve user onboarding and help users to achieve the "wow" moment
User onboarding is all about helping new users understand your product and feel that they made the right choice by choosing you instead of a competitor. It's the moment to show value and cause a good first impression. First impressions have a crucial impact on your onboarding, once it can result in passion or break up your relationship with a potential customer. In fact, 40% to 60% of new users will use your product only once and never return while 88% of users are unlikely to return after a bad experience.
When you start defining strategies to improve user onboarding it's important to design ways to help first-time users easily "get" your product. And feel that they need to keep using it. Ways to enchant them, let's say. We call this moment the "wow" moment, and it's the icing on the cake in your onboarding process.
What is user onboarding?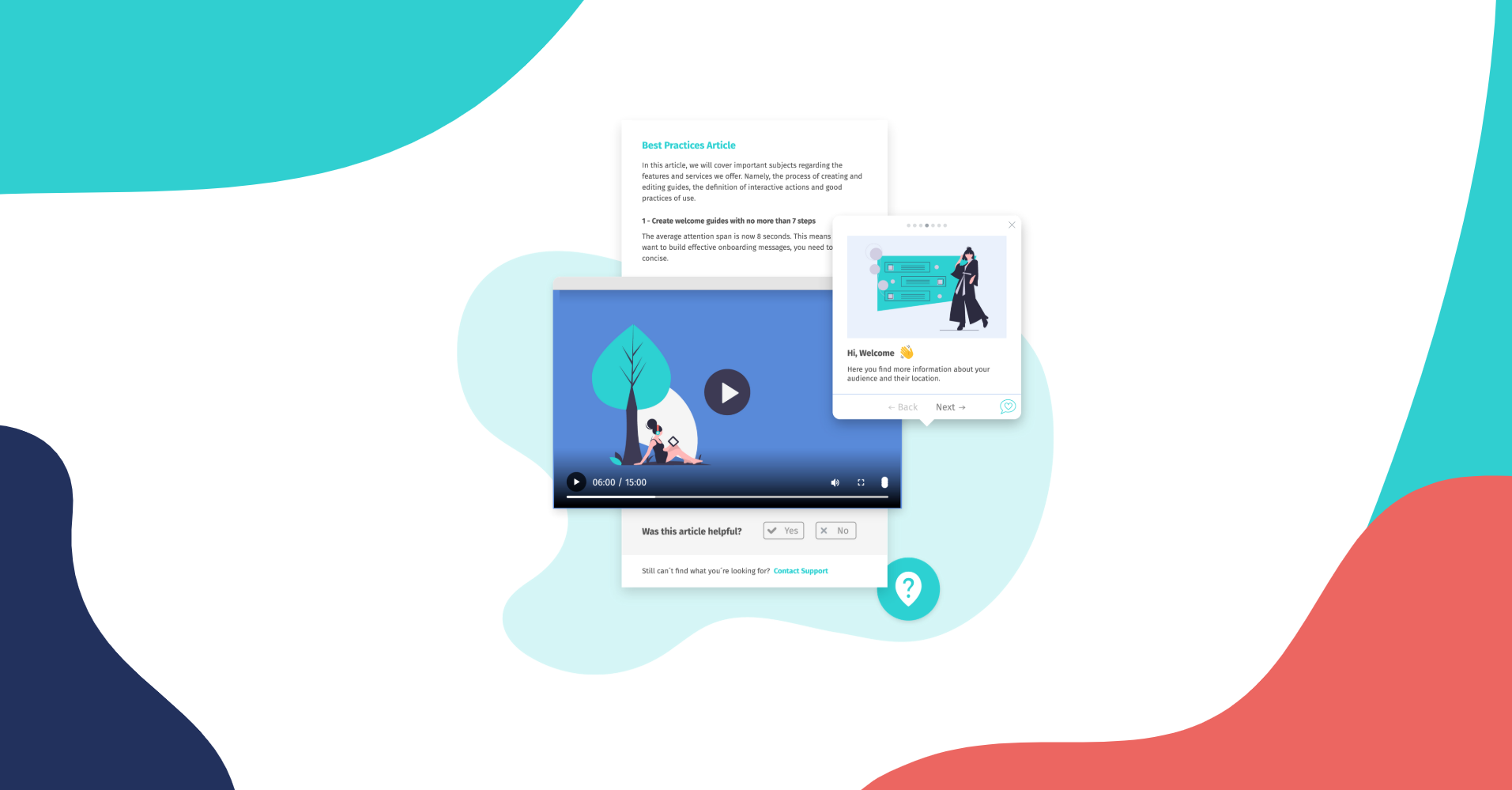 User onboarding is the initial contact between users and your company. It's the process of making users understand your services and how to achieve success using them. It's a continual and long-term process that ensures users will love and keep using your services, and it often requires research about the users' intentions and needs.
Onboarding practices can be as simple as greeting new users and guiding them through different tasks, depending on your customer's needs. It entirely depends on your product. On what you want to achieve with onboarding, what are your users' intentions, and which onboarding phase the user is in.
Imagine that you just landed on a new social network page. Receiving a welcome pop-up with a brief explanation about what the social network is about, can be enough to cause a good first impression and let you be a bit more familiar with the platform. On the other hand, if you have just started using new software, for example, receiving a walkthrough teaching how to use the platform can be crucial to reduce your learning curve.
By adopting a user onboarding strategy, you can boost your customer success, increase your sales and improve your retention rates. Today I share some tips to improve user onboarding on your platform:
Phase 1: Before sign up
The onboarding process starts way before your product. Thinking it only starts when users sign up and pay for your product is a constant mistake many companies make. It starts when users get into a landing page, download an app, fill a form or get a confirmation email, for example.
This is the phase before signing up for a product or service. It's a moment to reduce frustrations, improve your conversion rates and encourage users to signup. A company that explores this phase well is Slack. When you download their app and open it for the first time, they show you onboarding screens explaining their most valuable features. These simple explanations help understand how the platform works and how it can add value to you. You probably won't resist giving it a try.
Use Tutorial Videos in a landing page
Using tutorial videos can be a great way to share value, minimize possible frustrations and simplify the signup process. Actually, videos can persuade 73% of people to buy a product or service. With Helppier, you can create tutorial videos on top of your platform teaching about your product. You can either download this video and include it within the landing page's content (good for SEO), or trigger it to start automatically on top of the page (good for engagement).
Encourage signups and conversions with Popups
Using popup messages is another way to entice new visitors to signup.  Choosing a beautiful template and creating a friendly message with some basic information about your services is a nice way to encourage users to signup.  You can also use a call to action such as "Get a free trial today" or present special discounts to help increase conversions.
Assist in Signup Forms with Tooltips
We can't forget about some questions that users may have when filing a signup form. Having any frustration during this process can be a reason for the user to abandon the page and give up on signing-up. For that, tooltips can be perfect to make this process easier and clearer. You can use tooltips to teach which is the proper way to fill a form field, where to find specific data (e.g. a membership number or VAT), or explain why you're requesting personal information.
Phase 2: First-time Users
This is the phase to onboard users that have already signed up and are trying your product for the first time. You have already done everything right in the first step and users trusted you to sign up. Many companies think that having users that have already signed up means that they already "won" that customer. But that's not true. Actually, according to Hubspot, 75% of your new users will stop using your platform within the first week.
This is the moment to provide a great user experience to your first-time users and convince them. A moment to teach how to get started and give detailed information about how your product works. It's an important part when talking about retention. A crucial phase to help users achieve the "wow" moment and become loyal to your company. For that, it's important to understand who your user is and identify their main pain points to help during the onboarding.
A good example of onboarding in this phase is IBM Cognos Analytics' user onboarding. When new users start using the platform after signing up, they give users the option to take an interactive tour to learn about the product.
After concluding the tour, they celebrate users' success. We have mentioned the importance of celebrating user success in a previous article. When users complete an important task on your platform, it's important to let them know they've done a good job and need to keep going, building a positive relationship with them.
Create product tours to guide first-time users
Creating interactive tours to guide users on your platform and teach them how to get started will help reduce frustration. You need to remember that, in this phase, the user is already registered and wants more information about your product. With Helppier's product tours, you can choose multiple templates to make this process even more beautiful and interactive. You can define the perfect workflow that new users need to follow to achieve the "wow" moment and also track engagement towards the tours. Taking advantage of the analytics tool, you can see how guides are performing to make improvements to your platform's UX.
Provide assistance with tutorial videos
When we talk about strategies to improve user onboarding, it's important to keep in mind that this process needs to be simple and quick. That's why short tutorial videos can be a good idea in this phase of the onboarding process. With Helppier, you can record tutorial videos and trigger them to start automatically when users log in for the first time. By that, you can make this process simple and quick, reducing the time spent on documentation and boosting user autonomy. The video can be rewatched at any time by users directly on your platform, or shared by email or other channels.
Phase 3:  Active users
In this phase, take into consideration users that are active and use your product frequently. These users already know how to use your product but need more information on advanced features. It is at this step, that users are discovering more about your product but can have some doubts. It's an important moment to make users feel that they really made the right choice and increase loyalty in the long run.
In this phase, you want to automate answers to improve user autonomy. According to Zendesk, 67% of users prefer self-service solutions over speaking to the company when facing any trouble. That is important data to have in mind when talking about customer support.
Google Analytics and Jira are some examples of companies that develop this phase well. Take a look at the image below, on the left bottom corner, Jira provides a Knowledge Base with help articles, to help with technical questions users may have when using the platform. Likewise, Google Analytics provides contextual tooltips in their reports to explain what is the number of Unique Users or Pageviews, for example.
Provide a Knowledge Base with technical content
Automate common questions with Help Articles. According to a Zendesk report, 91% of customers would use an online knowledge base to solve their problems. With a Knowledge Base, you can provide articles with technical information, teach how to solve specific issues and troubleshoot questions that users may have due to a lack of knowledge about your product. By that, you can improve the onboarding process and retention rates, as we already mentioned in another article.
At Jira's example, they provide a knowledge base with documentation to help users. But by clicking on it you are redirected to another page. With Helppier, you can easily create help articles and provide your own knowledge base on top of your platform. In addition, if you already use Zendesk,  you can integrate it with Helppier to appear on top of your platform, together with other user guides.
Explain complex features with contextual tooltips
We can often find tooltips in Google's and Microsoft products. During the onboarding process, tooltips can be used to reduce frustration and help users understand a specific feature by displaying a brief description next to the element itself. Being a non-intrusive way to help active users.
First, use heatmaps, analytics, and surveys to understand what are the most common questions active users have in your platform. Once you have that figured out, you can use Helppier to quickly create and place tooltips to clarify these features, using simple language and images.
To conclude
Quoting Smart Insights, "new customers, like seedlings, require nurturing". Improving user onboarding is a process. During this process, users need attention and you need to understand what users want. By that, you both can achieve success: users understand your product and become loyal to it and you can improve your retention rates and increase revenue.
In addition to the three phases described in this article, it's important to highlight that user onboarding is continuous. Every time you introduce a new feature or gain a new customer, user onboarding will help boost autonomy and reduce the number of support tickets.
✨ Download our free infographic ✨

---
Thank you for reading,  I hope you enjoyed this article. If you want to know more about user onboarding make sure to follow us on Facebook and Twitter and get updated to our latest news.
In case you are looking for a tool to create tutorial videos, walkthroughs, help articles and tooltips, check our website. 😉