Here is a powerful strategy to improve user retention
In an era where you can find so many competitors "one-click" away from you, retaining users means building relationships with them. Why? So they eventually become loyal to your products and services. According to a Bain & Company study, increasing your user retention by only 5% can increase your profits between 25% to 95%! 😃
When you improve user retention you focus on making existing users satisfied with your service. To point out, as users get more satisfied, they'll keep using and purchasing your services. And, naturally, your retention numbers will grow. Besides, loyal users are great marketers as they can mention your company to others or share positive reviews on social media. Many professionals see retention as a more powerful strategy (and cheaper) than acquiring new users. In fact, according to Invesp, it costs five times as much to attract a new customer, than to keep an existing one.
Here are three digital engagement strategies to improve user retention and increase customer loyalty within your company.
Offer guidance during the onboarding phase
Onboarding is the first line of contact between users and your business. It is at this stage that users begin to understand the value and what they can expect from your service. It's proved that having good onboarding is essential to convince new users to come back. According to Andrew Chen's report, 75% of new users stop using a platform within the first week while 88% of users are unlikely to return after a bad experience. Taking this into consideration, it's important to guide your users from the moment they enter your platform or website.
It doesn't make sense to attract new users if they won't feel satisfied with your service and switch to a competitor. With tools like Helppier, you can easily create product tours, welcome messages and contextual tooltips on top of your website. By doing so, you can ensure new users have a positive first experience, providing tips on how to get started.

Use tutorial videos to improve user retention
Videos are a great way to share knowledge. According to statistics, 54% of consumers actually want to see more video content from the companies they support. Sharing tutorial videos on your website can help users complete tasks and understand your product quickly. Without any intervention from your team.
In a previous article, we shared a few tips on how to use tutorial videos. We also shared that using videos in landing pages can improve user retention and website engagement. According to Unbounce, videos should be used on your landing pages whenever they can offer direct support.  For example, adding a video in a software landing page to teach how to use a specific feature, will reduce frustration and improve engagement towards that feature. Explainer videos like this show users what is important in a short and quick format.
When users understand your platform, the need for looking for alternatives can be reduced. With that, retention increases.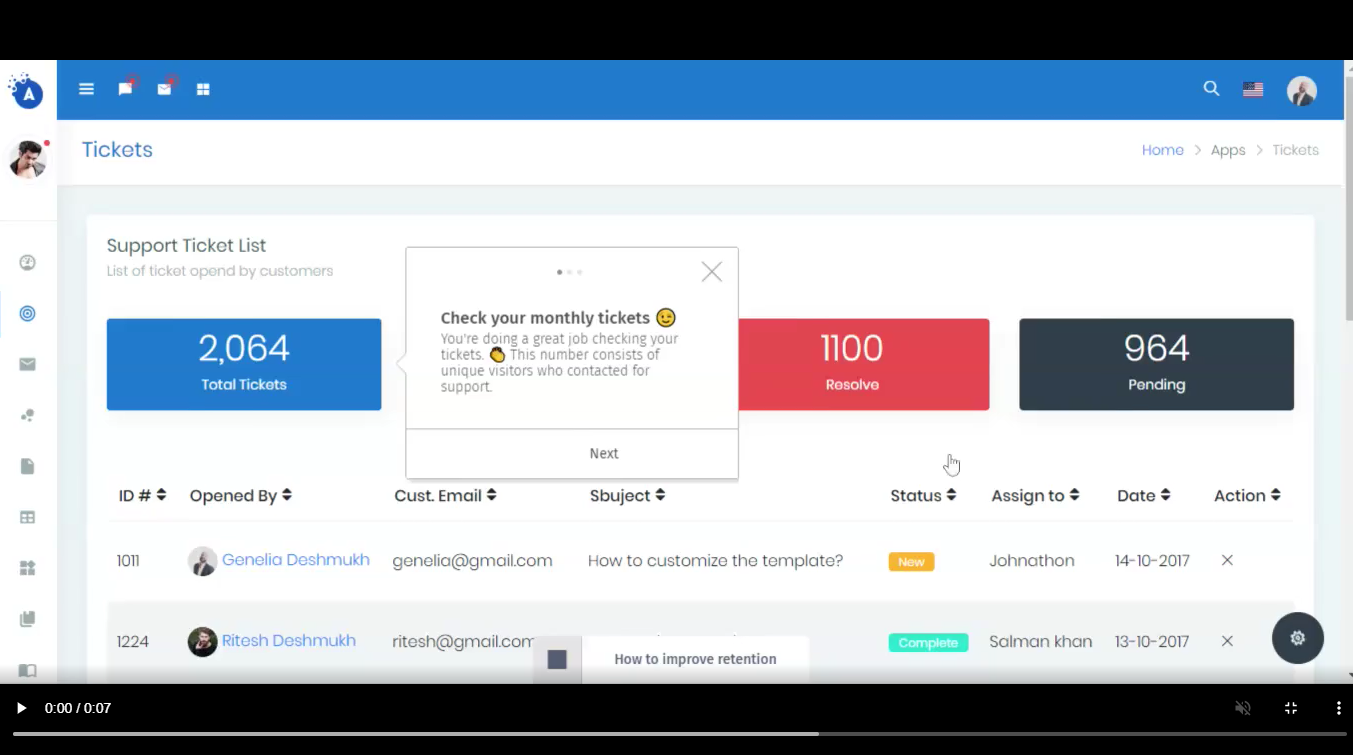 Offer special discounts to active users
Instead of focusing on all users, select a group of users that really love your product, and announce special discounts. 📢 Empower active users to make sure they will keep purchasing or upgrade their accounts. You can offer them special discounts to show that you care and want to build relationships. It can keep users engaged once they feel they are getting more from the experience than just your product or service. 
Statistics show that 89% of customers point out price as a top factor that affects their purchasing decisions.  This can be an important factor when talking about retention. With tools like Helppier, you can quickly create pop-ups and offer special discounts to a segmented group of users inside your website.

To conclude
When it comes to business in a digital era, creating strategies to improve user retention can be crucial. It can help share your value, build relationships, and show why users should be loyal to your services, instead of your competitors. Improving the onboarding, using tutorial videos, and offering special discounts are just a few tips you can have in mind to improve user retention inside your business.
---
Thank you for reading and I hope you enjoyed the topic. If you are interested to know more about user retention, make sure to check us on Facebook and Twitter and get into our news. In case you are looking for a tool to create tutorial videos or in-app messages, check our website. 😉