Here is our curated toolkit of the best user onboarding software for SaaS companies.
From acquiring new users to onboarding them, there's a lot of effort coming from your marketing and sales teams. From sending emails and booking calls to answering questions online, new users often require special attention as they are not yet familiar with your SaaS product.
And the worst part is that, although your team's efforts, Hubspot statistics show that 40 to 60% of free trial users will use your product once and never come back. 😓
So if you're still wondering if user onboarding is important for your SaaS business, it's time for a friendly wake-up call. 😉
In a previous article, we explain that having a proper customer onboarding process will tackle any initial confusion, and help cause a good first impression towards your SaaS product. And according to Mashable, effective onboarding will help you lower support costs and increase revenue.
Luckily, there are several user onboarding tools to help you automate this process and convert new users into customers, without major efforts from your team.
With that said, here is our curated toolkit of the best user onboarding software for SaaS companies. 🎉
In-app messaging tools 💌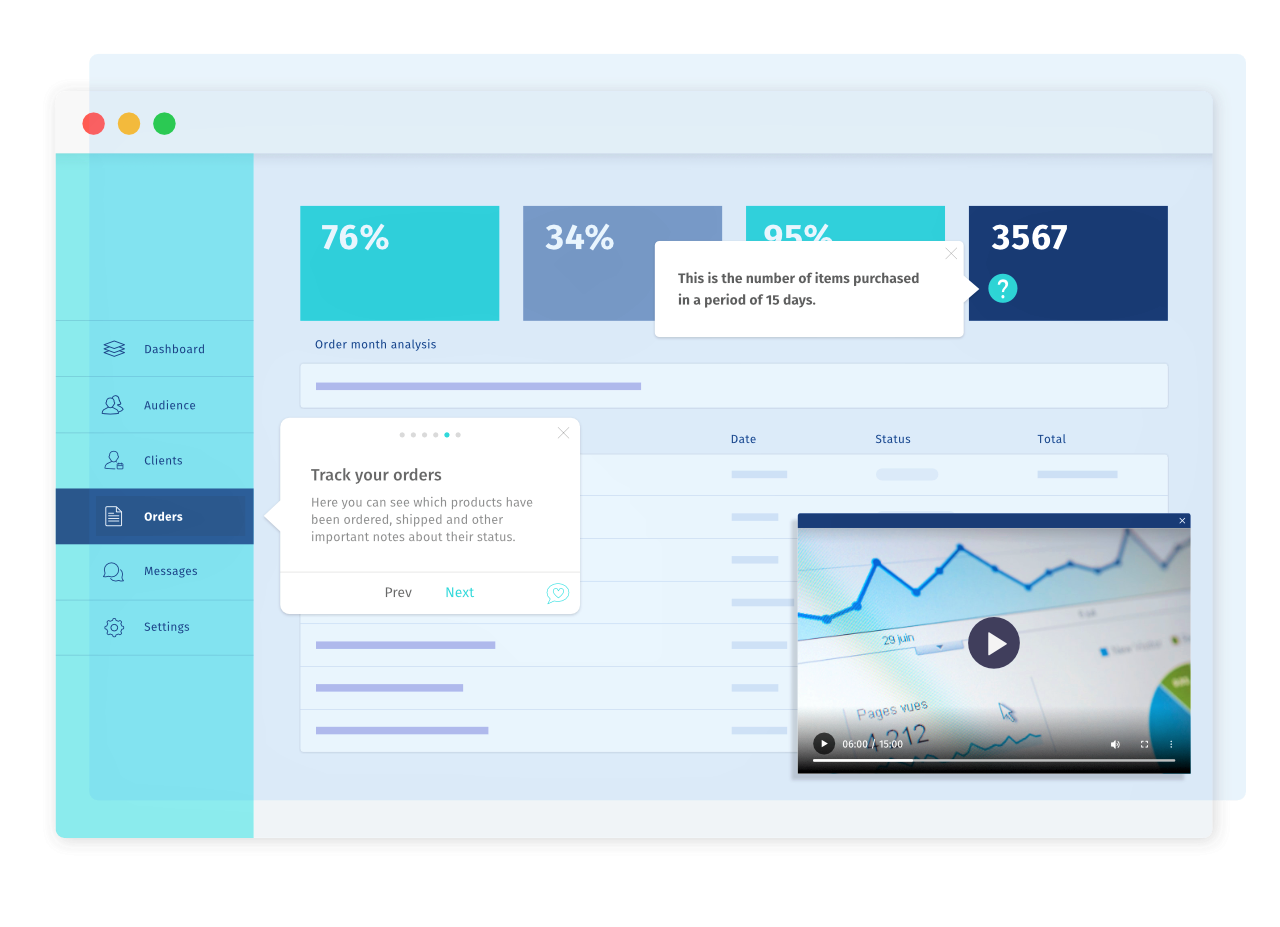 The best place to engage new users is directly on your SaaS product. Because that's where they will be.
Having external user onboarding tools such as automated emails and help articles are great. But they can pass unnoticed as users need to leave your product to access information.
If you want to increase retention rates and provide better onboarding experiences to new users, you need to deliver the right messages right when they are using your product.
Below are some tools you can integrate with your SaaS to create engaging in-app messages.
👉 Helppier
Helppier is a complete user onboarding software that allows creating product tours, onboarding flows, contextual tooltips, welcome popups, and other types of in-app messages without coding.
You can use Helppier to provide an overview of your product, highlight specific areas and even announce new features.
Likewise, it provides you with powerful analytics and feedback tools to track user engagement and make adjustments to your user onboarding flow.
Comparing to similar tools, Helppier not only is great for small teams but also for large companies who need to cover complex scenarios. It's easy to use, being suited for professionals with no coding experience. Plus it's extremely customizable offering several design options and ready-to-use templates.
Helppier is cheaper than other similar user onboarding software. Starting at under $40 per month.
👉 Typeform
Typeform allows creating interactive forms and surveys that people enjoy answering. It can be used in several different ways at the beginning of your customer journey. For example, to gather more information about users once they log in to your product for the first time. You can ask about their job position, company name, and other valuable information that you might need to provide value to them.
You can also show a quick video followed by a beginner quiz to help new users learn and retain information about your SaaS.
Typeform is very easy to use and allows you to create engaging interactive forms in minutes.
You can get Typeform for under $40 per month.
👉 One Signal
One Signal is a tool specialized in customer engagement, powering mobile + web push, email, SMS & in-app messages. You can use their push notifications to send a reminder when a user selects a subscription plan but forgets to check out, for example.
You can use it to create action-based notifications to appear when a user gets a new message or upvote to improve engagement towards your SaaS. Besides, they have a customizable Notify Bell that makes it easier for new users to opt-in for notifications inside your product.
Tools like One Signal will help you engage new users with targeted notifications during the onboarding process.
You can opt for their free plan or start at under $10 per month.
Chatbots & Messaging 💬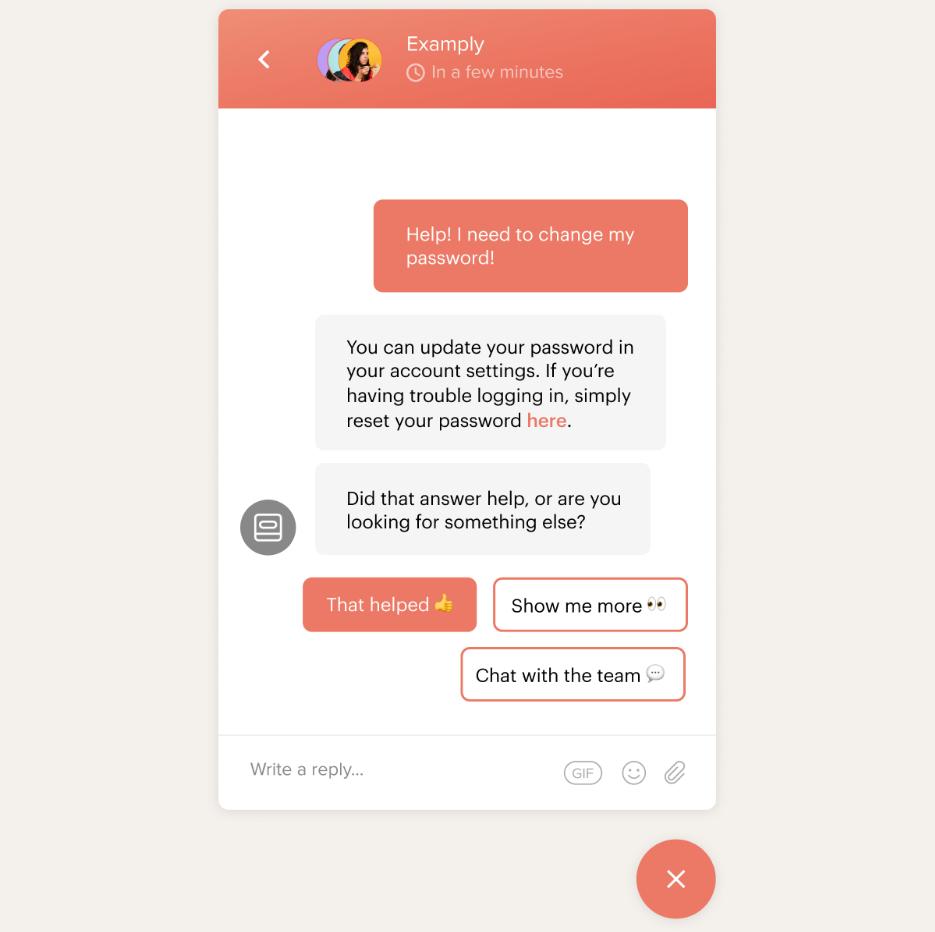 Following the same context of in-app messaging and engaging users directly on your website or product, Chatbots can function as powerful user onboarding tools.
By implementing AI Chatbots and Conversational AI, you will be able to deliver an automated and smooth user onboarding experience. By adopting Chatbots, new customers can onboard on their schedule, even when human operators are not accessible to help.
"The bot can work nonstop, restricting the danger of losing a client since they take their business somewhere else or have the opportunity to think about their choice and quit."  –  Source: Yubo
Below are some chat tools you can use to automate customer onboarding and improve conversion rates.
👉 Crisp
If you're a Startup or an SMB, Crisp is the most suitable messaging platform for your product. You can quickly set up an automated chatbot that answers based on specific queries and customize it to fit your product's UI.
Their chat is very easy to install and offers a complete dashboard with information about which page your users are on, and their country. Crisp also offers an effective CRM, where you can add information about the user you're messaging and stores that information in a contact list for later access.
Crisp has other interesting features including Analytics and several plugins so you can streamline your bot.
You can use their free plan for normal messaging, or start at under $100 for complete automation.
👉 Chatbot
Chatbot is an all-in-one messaging platform that allows you to build automated responses using drag and drop. You can choose from different response formats and actions to improve your user onboarding process.
Chatbot has great testing features so you can ensure your chatbots work perfectly before you connect with users. You can set up your chatbots in a couple of clicks with their customizable templates.
Other important features include reports, user data, customer segments, and archives, so you don't lose any important information.
The pricing starts at under $50 per month.
👉 Intercom
Intercom is a popular conversational platform and you probably already seen it around. But we had to mention it in this list anyway.
Being recognized as one of the biggest messaging tools, Intercom stands out due to its flexibility in creating personalized experiences. You can use it for real-time chat, automate responses, help customers through self-service resources, and much more.
Intercom allows you to connect different tools, create workflows, and target messages to specific users across platforms.
Their pricing starts at under $40 per month.
Email Automation & CRM 📧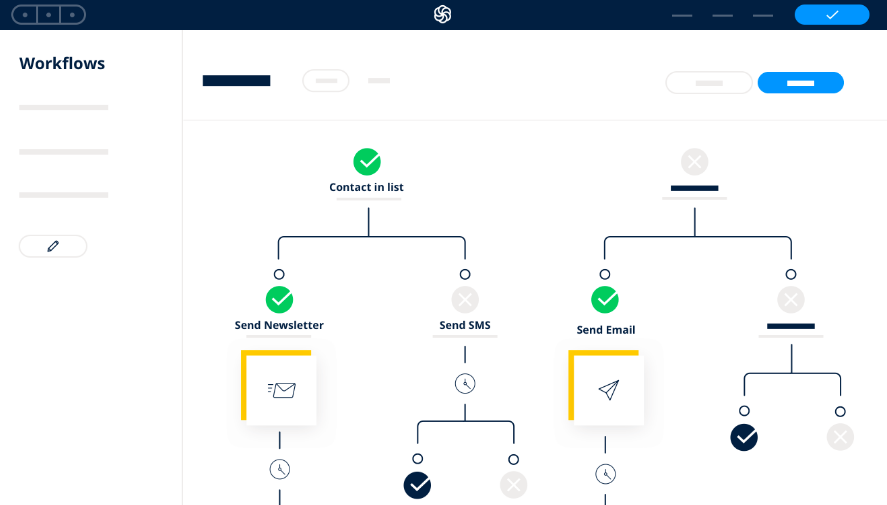 You can't talk about customer onboarding automation without talking about email messages. Be it the traditional CEO message, welcome email, or "trial is ending", emails allow you to communicate with users at every stage of the customer journey.
Creating an email sequence for first-time users can help answer common questions and get users to a successful user onboarding. You can share relevant information about your SaaS such as how to invite team members, how to set up an account or share customer success stories.
Below are some email automation tools you can use.
👉 Mailchimp
MailChimp stands out from other tools because it offers one of the easiest drag-and-drop email builders in the market. It's intuitive and has several content blocks to help you create beautiful email campaigns for your users.
Complete with analytics tools, email templates, CRM, and marketing automation features, with Mailchimp, you can create personalized trigger-based emails to engage users at the right time.
You can choose Mailchimp's free plan or start a monthly subscription for $9.99.
👉 Sendinblue
As an alternative, Sendinblue is an incredible tool for growing businesses. Its API integration is very effective and helps you create personalized transactional emails based on specific actions performed in your product.
The interface is clear and intuitive, allowing to quickly create automated onboarding flows to specific types of users. For example, every time a user signs up for your product, you can add it to a specific list and trigger an onboarding flow. Or every time a user upgrades/downgrades its subscription.
Their advanced segmentation, A/B testing, and CRM features are very powerful too.
Sendinblue starts at under $20 per month.
👉 Hubspot
Hubspot has positioned itself as one of the most complete CRMs in the market.
From gathering leads through embedded forms to creating engaging follow-up sequences, Hubspot has all the features you might need to create engaging and automated onboarding emails. And more.
The dashboard provides multiple features for marketing, sales, and customer engagement to help you communicate with not only new users but existing ones. Furthermore, it integrates with tools like Outlook, Zoom, and Zapier allowing you to book demo meetings quickly.
Hubspot's marketing plan starts under $50 per month.
Video tools 🎥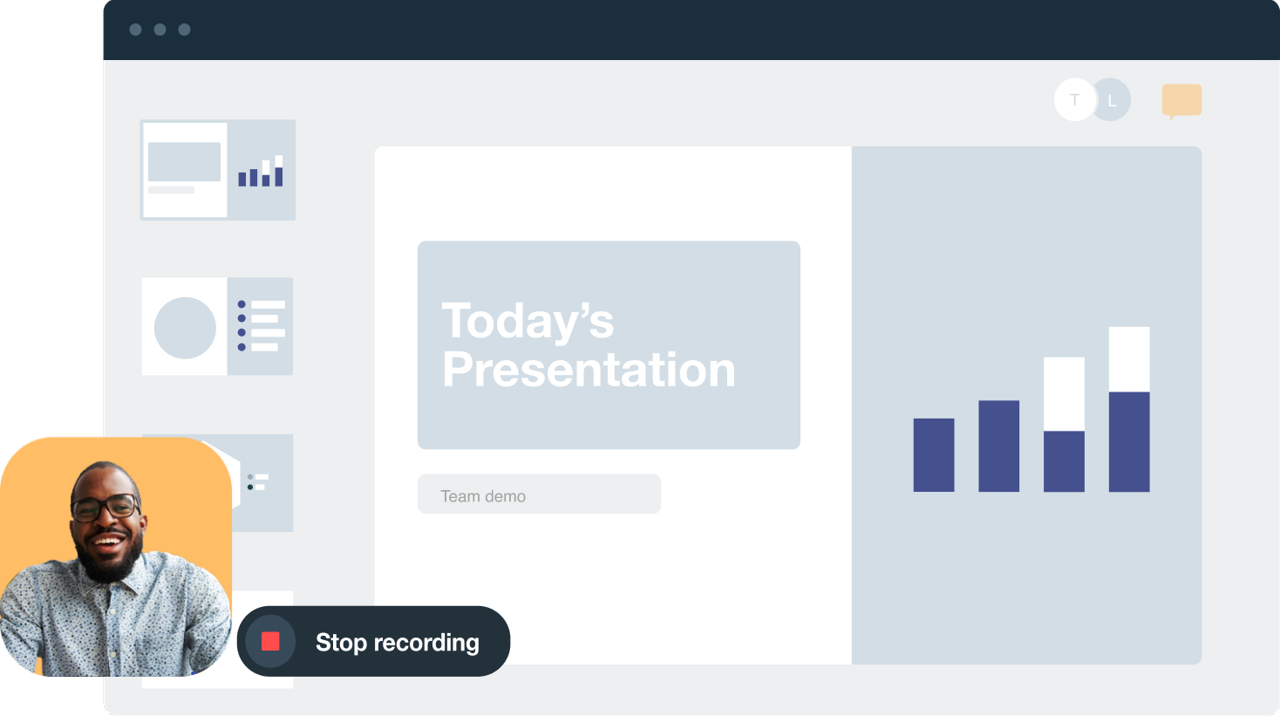 Video content is growing and it won't stop anytime soon. According to Wyzowl, 72% of people would rather use video to learn about a product or service.
Tutorial videos are great self-service resources to teach users how your SaaS product works and how they can get value from it. But remember, a successful onboarding process will depend on how personalized and valuable the content you provide is.
So make sure your videos can help users get things done. Don't overwhelm them with too much information. A clear message covering your product's main features and benefits will do the trick. Here are some examples of videos you can create for onboarding:
Explainer Videos
Training Videos
Demos
Tutorials
Feature Updates
Below are some of the best video tools you can use for your SaaS onboarding.
👉 Vimeo
Vimeo is not only a great channel to host and share your videos online but also for recording them. With Vimeo Record, you can easily record your screen and camera to create personalized tutorial videos and walkthroughs of your SaaS product.
It's quick and simple to use as you can start recording through a Chrome Extension. The best part of Vimeo Record is that you get unlimited recordings, for free. You can track views, comments, and all the good stuff.
You can use Vimeo for free or start a subscription for under $10 a month.
👉 Wistia
Wistia is another excellent video marketing platform that you can use. With their product Soapbox, you can record, edit and share your videos in a matter of minutes. It also works through a Chrome Extension, making it easy to start.
You can create and customize video thumbnails and export your video to share on Social Media or any support channel you use. It's complete with video optimization features so you can deliver a great viewing experience to new users.
They have a free plan but you can purchase a subscription at $79 per month.
👉 Streamable
If you already have training videos ready to go, you can upload them to Streamable and share them with users instantly. They're known to have one of the fastest video uploaders in the market and can stream videos up to 4K UHD (60fps).
Streamable is great to edit your videos. You can immediately resize the landscape for different platforms and channels (like Twitter or Facebook), trim, crop, compress, and more.
Streamable has a free plan and its subscription starts at under $10.
Knowledge Base tools 📝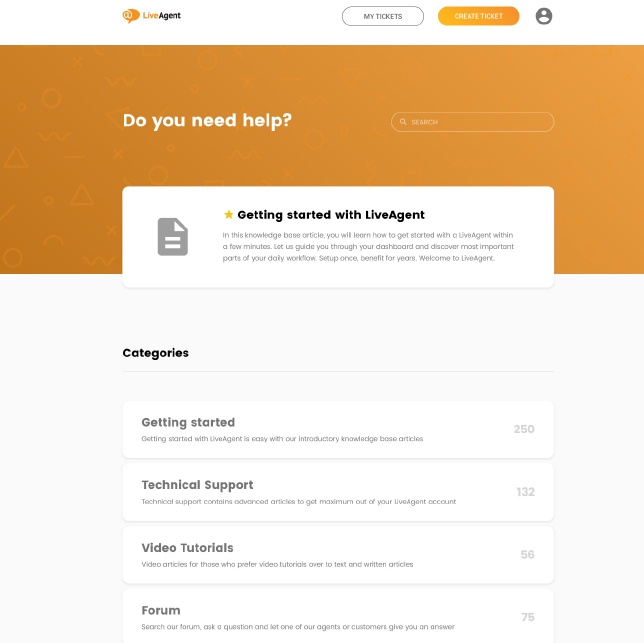 In addition to onboarding tours, interactive guides, chats, and training videos, having a Knowledge base is essential for a successful new customer experience. Especially if your SaaS product can get a bit technical. Which all do.
Knowledge Bases allow you to centralize your documentation online, and give users access to instructions when they need them most. Although product documentation is often difficult to read, you can optimize by combining different training resources such as images, gifs, videos, and more.
Some good practices for creating a Knowledge Base include organizing content by clear categories and having a search bar always available to users. Below are some tools you can use.
👉 Zendesk
Zendesk is one of the most popular Knowledge Bases in the market, and for great reasons. Its simple interface allows you to get things done quickly.
You can write engaging help articles, manage support tickets, set up your support center, and much more. It also comes with messaging features and live chat so you can create a complete support system for your SaaS business.
You can get Zendesk for customer service starting at under $60.
👉 Freshdesk
Freshdesk is another powerful Knowledge Base. You can use it to improve collaboration between customer success managers and provide powerful self-service to users.
This is a great service to centralize support tickets, create task automation, and if you're looking to show your help articles into your product, Freshdesk has a contextual help tool. Inside this widget, you can include a contact form to speed up communication with users.
You can use Freshdesk for free or start at under $30 per month.
👉 Live Agent
Live Agent's knowledge base software offers complete integration with communication channels to help you engage with users faster.
It offers powerful features such as an all-in-one inbox, ticket system, live chat, call center, knowledge base, and much more. You can also integrate with your social media channels to centralize tickets.
Live Agent subscription starts at $15 per agent, monthly.
Product Analytics & Heatmaps 📈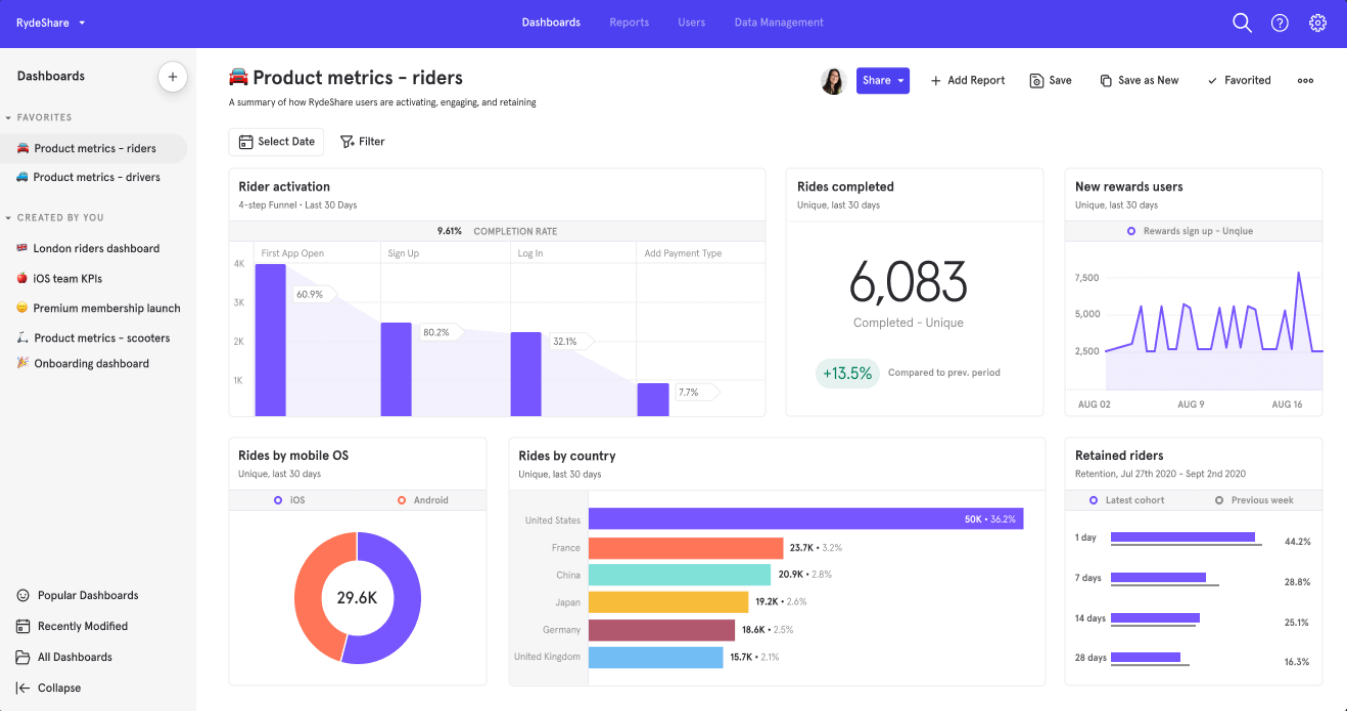 Another important step in creating a successful onboarding journey is integrating analytics features to track effectiveness and user behavior. While assumptions can help you create a base strategy, you will need data to be able to grow your product.
With a heatmap and product analytics integration, you can measure your product's experience and make adjustments to reduce churn rates and improve conversions.
Heatmap tools will help you analyze where users are interacting with your product. For example, where they are clicking, scrolling, or leaving. Product analytics tools can track data such as the number of new users, goal completions, drop-offs, and more.
Check the tools below.
👉 Mixpanel
One of the biggest tools for product analytics is Mixpanel. By integrating into your SaaS you will get access to interactive reports and a complete analytics dashboard to check product usage.
You can build funnels to identify important user paths, and why specific users are converting. Mixpanel is a powerful analytics tool that allows you to visualize organized data in seconds.
You can use Mixpanel for free or start at $25 per month.
👉 Hotjar
While product analytics can give you amazing data, you still won't be able to tell how exactly users are interacting with your product. For that, the best option is heatmap tools like Hotjar.
Hotjar has a very appealing and easy-to-use UI, and the installation is simple. It gives you access to user heatmaps for specific areas/pages, screen recordings of a user's journey, feedback tools, and more.
You can start at $99 per month for 500 sessions/day.
👉 Clarity (by Microsoft)
If you're looking for a free service, Microsoft recently launched Clarity and you should take a look at it.
Clarity offers session playbacks, heatmaps, an analytics dashboard, and scalable service with a low impact on your product's performance.
The tool is completely free.
Conclusion ✍️
I hope you enjoyed this article and were able to find the perfect user onboarding software for your SaaS business.
These tools were selected based on the ability to create and customize content, speed of publishing, and ability to track user data. If you know any others, feel free to share with us!