From banners to warnings, Helppier's new version allows crafting beautiful in-app messages that completely match your website design. Without any help from your development team.
One of the biggest lessons COVID-19 has thought us is that online channels are crucial in keeping the conversation going with customers and coworkers. And that the best way to inform users about important changes is directly on your website, as social media might pass unnoticed and emails unread.
With that in mind, we're happy to announce the launch of a new version that introduces new in-app messaging templates and full-on customization options. Now, not only can you create user guides to assist users with online processes but also, in-app messages such as warnings and notifications to keep users informed.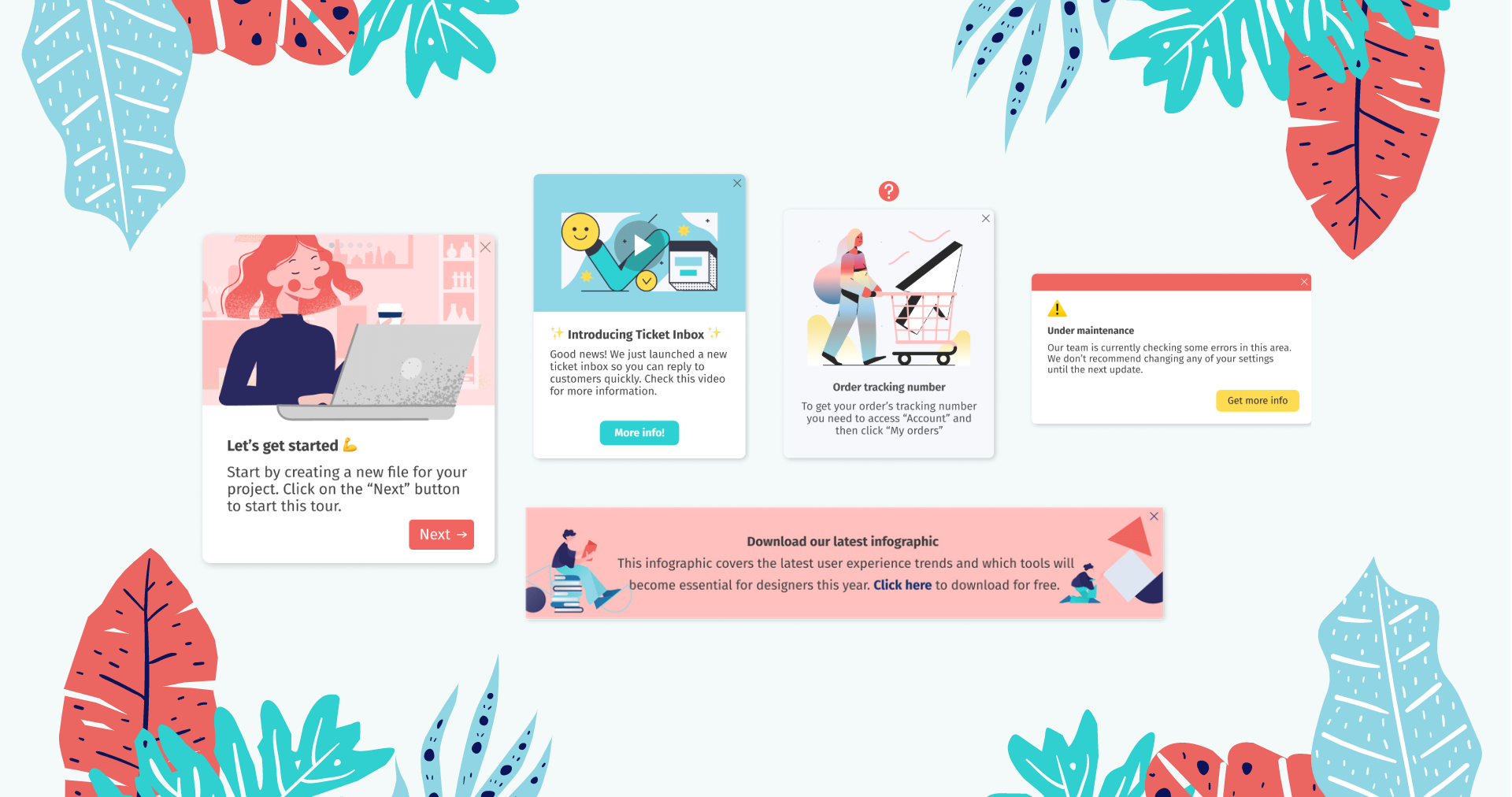 Our previous version already offered a few templates that you could take advantage of. But, in this update, which is our biggest so far, the customization options are endless and require no CSS knowledge at all.
Here's what's new:
✨ New range of default templates
✨ Custom colors & background
✨ Bubble sizes (S, M, L, and XL)
✨ Advanced positioning
✨ Content blocks
✨ New header & footer sections
✨ GIF and Video file support
✨ Full rich-text customization
This new version not only allows choosing from a new range of in-app messaging templates, but also easily customize every aspect from size, color, and position of your in-app messages. Our goal was to open a huge opportunity for professionals in areas like marketing, design, and customer success to communicate with clients directly on a website or web application.
"One of the main challenges marketing and product professionals face is to effectively communicate with users while they're using their service. Be it an e-commerce website or a software application. Usually, in-app messages such as pop-ups, banners, and interactive tours need to be implemented by developers which takes a lot of time and resources." — Hugo Magalhães , CEO at Helppier
With that in mind, we simplified the process of customizing tours and tooltips so you can create different types of in-app messages including hotspots, banners, warnings, and notifications to communicate with users without them leaving your website or web platform.
"Customer success and HR teams can also take advantage of these new templates to reduce support tickets online and improve employee training on internal platforms"  — Hugo Magalhães, CEO at Helppier
The new version offers 8 new default templates that can be completely adjusted to numerous types of in-app messages. You can literally create hundreds of combinations, without any coding.
Here are some examples of in-app messages that you can create for your website: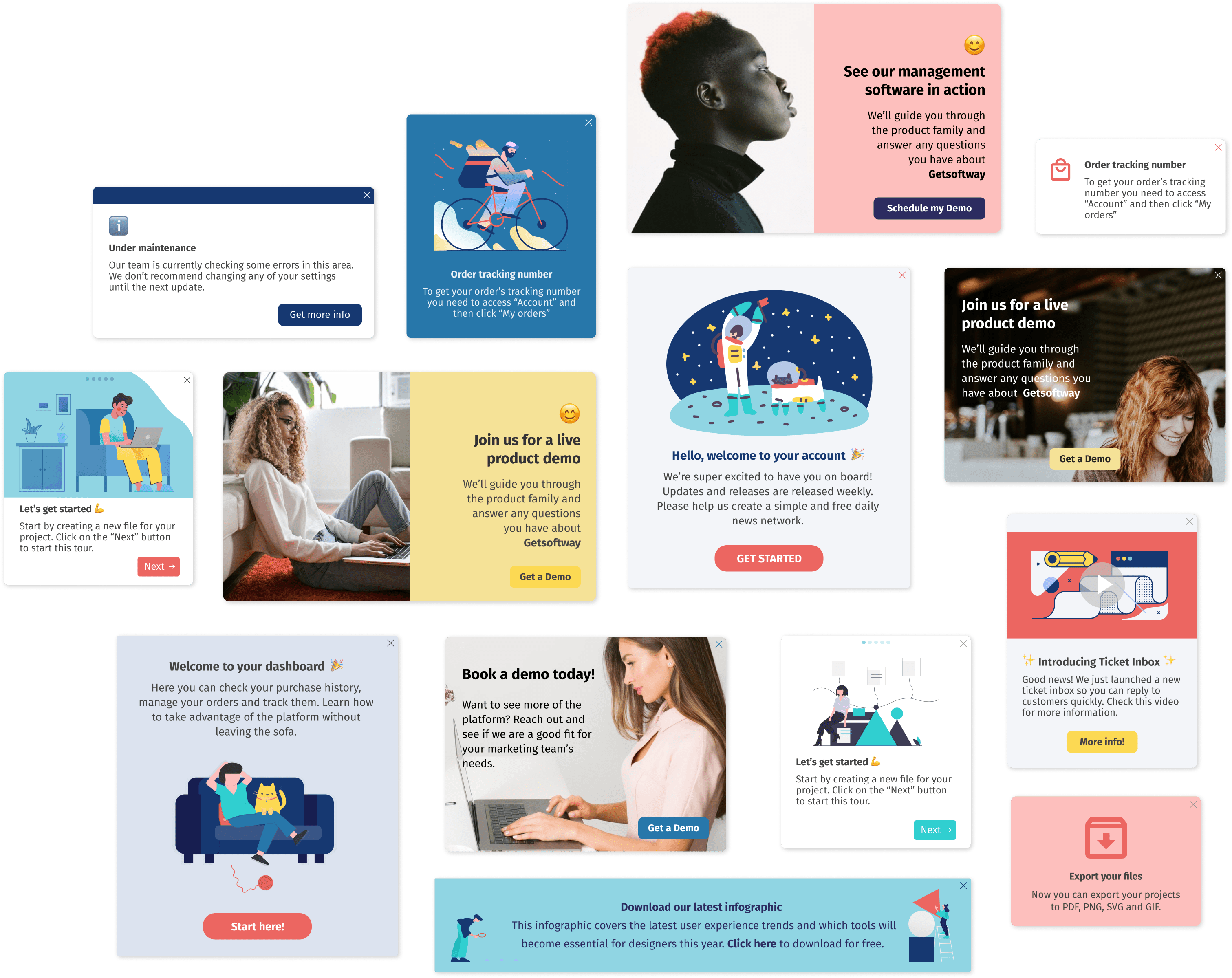 ✨ Welcome messages for first-time users on a specific page;
✨ Product tours to help new users get started;
✨ Popup messages to announce new products or offers;
✨ Banners to promote new infographics or ebooks;
✨ Contextual tooltips to assist in form fields or complex features;
✨ Hotspots to highlight specific areas inside the website or product images;
✨ Warnings to alert users about possible errors or server maintenance;
✨ Notifications to inform users about a new version or business policies;
Using in-app messages and user guides on your website comes with some useful benefits for your business:
🚀 Retain first-time users with product tours and welcome messages;
🚀 Drive revenue and improve conversion with in-app marketing campaigns;
🚀 Keep users out of your inbox through self-service user guides;
🚀Reduce costs with customer service and documentation;
🚀 Accelerate onboarding and staff training on internal platforms;
Our latest version is already available for use and you can request your free trial on our website. If you're a startup or small company I'd like to mention that we also introduced a new starter plan option. 😉
Thank you so much for reading. Feel free to follow Helppier on Facebook and Twitter and get updated on our latest news.