Getting the most from Helppier Insights
Ever since its inception, Helppier has provided their customers with a vast list of events to better understand how its users behave within the app, where they struggle the most, amongst other concerns. Aided by rich analytics, companies are able to determine which areas of their product or service should be improved on, reducing churn, improving user interactions, and further increasing.
At that time, Helppier was providing some disruptive information from tours and onboarding guides created by users. This type of information is critical to help users and companies make decisions and improve their user experience. 
These events include, for example: 
How many times the resource center is open;

How many times a tour was started;

 

How many times a tour was stopped;

 

How many times a tour was completed;

 

How many times an user navigated through a guide/flow/tour;

 

How many times does a user search for a tour;

 

How many times feedback was provided and of what kind (positive, negative, with comment);

 

How many times a tour started due to specific triggers (entering a page, clicking on an element);

 

How many times users reached a goal;

 
These events were collected from the moment the user engaged with the application and throughout the whole experience. 
Currently events can be viewed in two separate ways:
The first one provides a broad perspective containing all the events regarding a particular application and is available in Helppier's backoffice.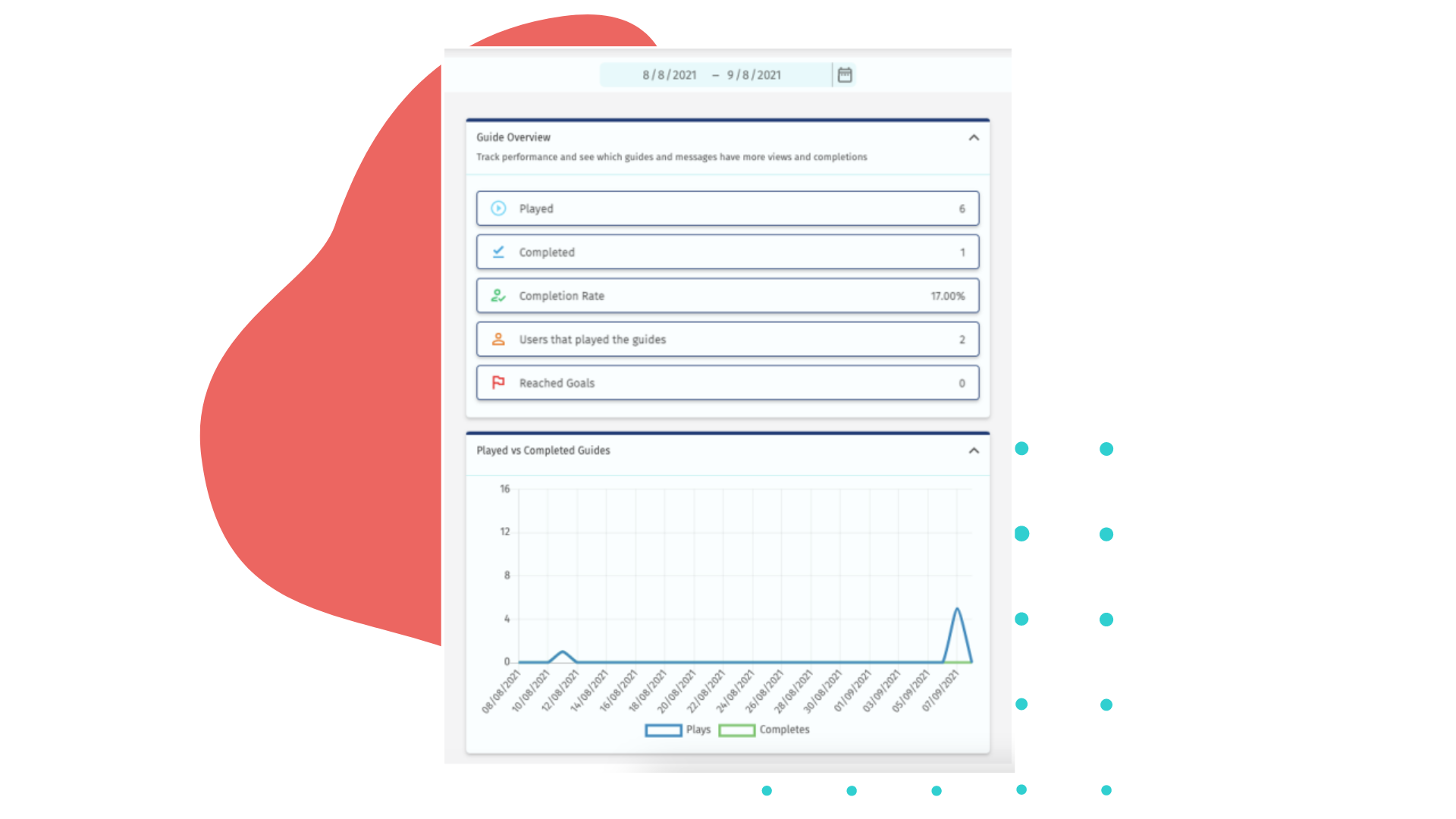 While the other can be found on the widget installed in the client's application and it contains information focused on specific tours from that application. 

Collecting events at Helppier SDK 📱
Helppier is currently developing an Android SDK that provides their clients with the tooling necessary to embed our product in their Android native applications. Given the importance of the analytics mentioned above, Helppier has already integrated such a feature into this tool.   
In comparison with the traditional web product, metrics can be collected when the client application is loaded, when the client content on Helppier is displayed and when the user interacts with our widget. When the client application is loading, some requests have to be made to the Helppier server and these requests will store some information to start constructing our events.  
As soon as Helppier is displaying content, Helppier's will add more information to the events collection.  
Most events are captured through user interaction, gathering data that actually reflects the interaction between the user and the application. Helppier also stores events triggered while interacting with the "Webview" that contains the UI for the tours (mixed feelings…)  
Despite the fact that the SDK was developed exclusively from Android, the list of events captured is exactly the same as the events that Helppier's web version always captured providing our clients with a standardized approach to events collection.
---
Thank you for reading and have a great week! 😊
We are excited to keep sharing articles on the Helppier Mobile Development series. Stay tuned! In case you haven't read our previous articles, please check the begging of this process at our Helppier for Mobile: The pursue for the best mobile SDK article.